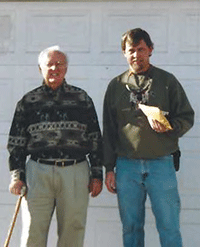 Company Information
Living Products, LLC has been doing business since 1988. Currently, we only sell one product, the Save-A-Deer whistle. We have sold millions of these whistles over the past twenty-seven years to many businesses and individuals. This is a family owned business operating from two locations. Our product is manufactured in our home state of Missouri. We ship most orders from our secondary location in Colorado. We continue to have our product tested by independent companies for quality and performance. We are always searching for any research completed on our product. Please submit any research or experiences you may have to info@deerwhistle.com.
Previous owner, Orville Livingston, and
current owner, Mike Livingston
Privacy Policy
Living Products, LLC's, policies and procedures for handling customer information have been created with the understanding that Internet technologies are still evolving and that Internet business methods are continuing to evolve to meet the needs and opportunities of the changing technologies. As a result, Living Products, LLC's, policies and procedures are subject to change.

In the course of serving its customers, Living Products, LLC, acquires, stores, and transmits customer communications and information that customers may regard as private or sensitive. Some of this information—such as the customer's name, address, telephone number, and credit card data—is provided to Living Products, LLC, by its customers in order to establish service. Other information—such as the customer's account status, choice of services, and customer logs—is created and maintained by Living Products, LLC, in the normal course of providing service. Living Products, LLC, also uses cookies, which are small pieces of information that a web site can store in a designated file on a user's computer for various reasons. For example, Living Products, LLC, uses cookies on the landing pages of products sold online which record the customer information that is required on the order form. This information is then forwarded to an internal sales tracking database within Living Products, LLC. In addition, Living Products, LLC, may store customers' electronic mail and other communications as a necessary incident to the transmission and delivery of those communications.

Data Security
Living Products, LLC, will protect the confidentiality of its customers' information, account information, and personal communications to the fullest extent possible and consistent with the law and the legitimate interests of Living Products, LLC, its partners, its employees, and other customers of Living Products, LLC's, services. To protect the loss, misuse, and alteration of information that is collected from customers, Living Products, LLC, has appropriate physical, electronic, and managerial procedures in place.

How Is Customer Information Used?
Living Products, LLC, may use customer information to provide its customers with system information or information about new or upgraded products.

Opt Out and Modifications
Customers may opt out of receiving notices of new or upgraded products from Living Products, LLC, and Living Products, LLC, partners by filling in the subject line with the word "REMOVE" in the link below. Your e-mail address will be removed within 72 hours. However, customers may not opt out of receiving information from Living Products, LLC, which is essential for maintaining or updating customer's accounts or system information. All other customers may access and modify their personal information by contacting Living Products, LLC .

Disclosure of Customer Information and Communications
Living Products, LLC, will not otherwise disclose its customers personal and account information unless Living Products, LLC, has reason to believe that disclosing such information is necessary to identify, make contact with, or bring legal action against someone who may be causing harm or interfering with the rights or property of Living Products, LLC, Living Products, LLC's customers, or others, or where Living Products, LLC, has a good faith belief that the law requires such disclosure.

Living Products, LLC, also will not, except for reasons stated below, disclose to third parties the contents of any electronic mail or other electronic communications that Living Products, LLC, stores or transmits for its customers. The circumstances under which Living Products, LLC, will disclose such electronic customer communications are when:
It is necessary in order to provide service to the customer.
It is necessary to protect the legitimate interests of Living Products, LLC, and its customers.
It is required to cooperate with interception orders, warrants, or other legal process that Living Products, LLC, determines in its sole discretion to be valid and enforceable.
It is necessary to provide to a law enforcement agency when the contents are inadvertently obtained by Living Products, LLC, and appear to pertain to the commission of a crime.
Living Products, LLC, disclaims any intention to censor, edit or engage in ongoing review or surveillance of communications stored on or transmitted through its facilities by customers or others. Living Products, LLC, will, however, review, delete or block access to communications that may harm Living Products, LLC, its customers or third parties.

Refund Policy
Living Products, LLC, has a generous return policy. If you are not satisfied with our product, simply return the product within 30 days, undamaged, for a full refund.

If your purchase was charged to a credit card, your refund will be credited to your credit card account. If your purchase was paid by cash, check, or money order we will issue a check as refund back to you. You should receive refund within 2 weeks from the date we were notified.